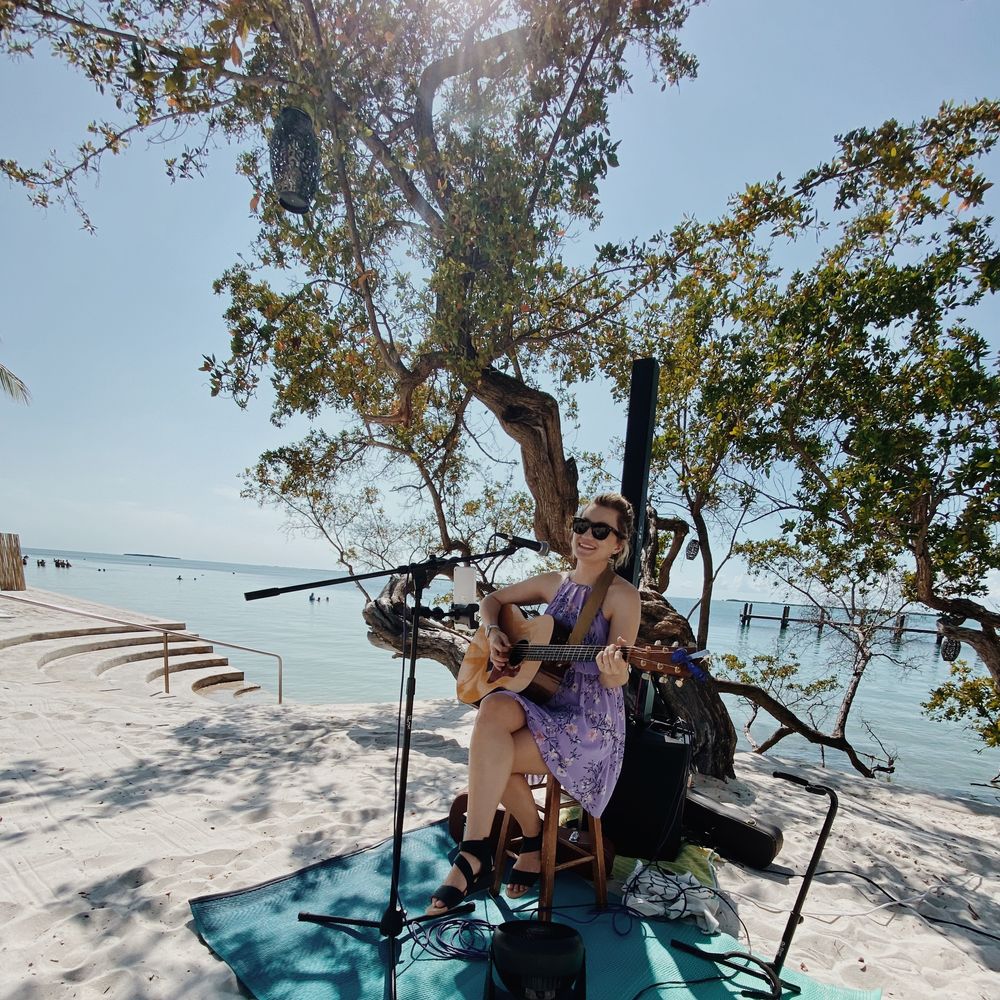 On the most special day, let's add some music!
Welcome!
If you're looking to add a special touch to an already meaningful day, live acoustic music can make your wedding day that much more beautiful! Leah has performed at weddings across the Florida Keys from Islamorada to Key West and around South Florida.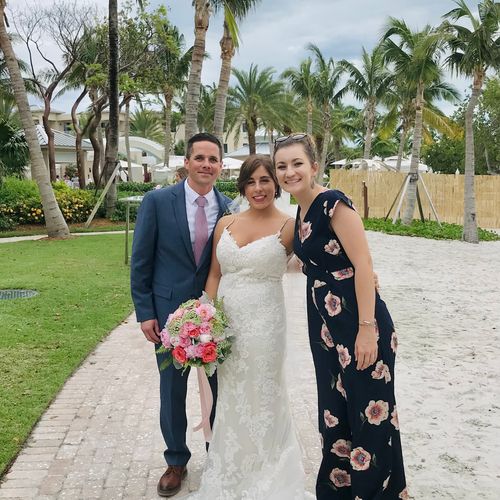 Leah loves working with couples!
Coming together with couples to craft the music for their big day is such a special process. Music is a universal language and one of the most powerful means of expression. If you are looking for music that will set the ambience of your big day and truly represent YOU as a couple, look no further than Leah!
(Leah pictured with couple Eric & Katelyn Baker)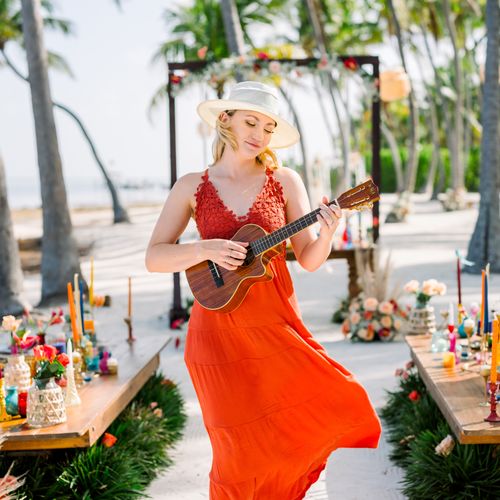 Music for all your wedding needs!
Leah sings, plays guitar and ukulele, and can perform both instrumentals and vocal pieces. Leah is available for rehearsal dinners, wedding welcome parties, ceremonies, cocktail hours, receptions, and day-after brunches. Leah comes equipped with her own sound system.
(photo by Alyssa Marie Photography)
~Wedding Reviews ~
"Leah Sutter is a dream to work with and have play at your wedding!"
"Leah worked along side my husband and I for TWO YEARS while our wedding was postponed three times (thank you, covid). She was patient, supportive, friendly, and encouraging. Along the way, Leah also helped with a couple of local recommendations that I needed for myself and our guests! As for the wedding day, Leah smashed it. So many of our guests told us how beautiful her voice was, what a perfect level the music was (volume wise), and that she sent a perfect ambiance for our "Spa Island" cocktail location. Leah also played live music for our ceremony and worked with us to pick our perfect songs and play them just as we wanted for each step down the aisle. When I tell you this artist goes above and beyond for her bride&groom, she really truly does. I wish I could have had even more Leah Music time! Thank you Leah, for being a joy to work with, playing our special songs, and being apart of our most important day!"
~ Natasha & Rob Barlow
"Leah's music was the highlight of our intimate wedding in Dec 2020."
"She played beautiful tunes! While it was a small wedding and we didn't plan to dance, we ended up all barefoot dancing around the tables by the end of the night and even asked Leah to stay extra, which she graciously did. She also took our request for Christmas music since our wedding was a few days before the big holiday. The day after the wedding, the topic of discussion was how amazing Leah was! Her voice and guitar playing really made a beautiful ambiance and vibe to the night. Thank you for everything, Leah. We will always try to catch her gigs when we visit the keys here on out!"
~ Caitlin & Josh Wehniainen
Leah is incredible!

"We hired Leah for our (not so typical) brunch wedding and she made the wedding spectacular. A voice of an angel, Leah sang and played the guitar throughout our wedding and we had so many compliments! She even learned to play a song for us that I wanted to walk down the aisle to. She was so easy to work with and had such great communication throughout the entire wedding planning process. We would hire Leah again in a heartbeat and recommend her to anyone!"
~ Jenna & Chad Sample
 "I ended up booking Leah for the ceremony and cocktail hour and it was the BEST DECISION I could have made."
"I was recommended to Leah from my wedding planner when I mentioned I preferred live music while walking down the aisle. Her song selection is superb, my guests commented on how nice it was to have the acoustic music, my one year old was obsessed with dancing to her, and Leah still sounded grand even though the winds were intense the day of the wedding. I was worried the high winds would mean that Leah's voice would be drowned out and no one would be able to hear the music during cocktail hour, or even I wouldn't even be able to hear the music while walking down the aisle, yet Leah sounded phenomenal and my wedding day was a dream. I completely recommend Leah for any wedding or event you may be hosting and wouldn't hesitate to book her again."
~ Erin & Nicolai Soendergaard
"We hired Leah to play for the cocktail hours of our wedding and we're so glad we did." 
"We knew she had an incredible voice because we had heard her play before, and she's also wonderful to work with. Super sweet, and so considerate of the types of music we had envisioned for our wedding. She was even happy to learn a new song for us, our favorite Van Morrison song, for our first dance. She knocked it out of the park, and I'd recommend her to anyone." 
~ Autumn & Nathan d'Adesky